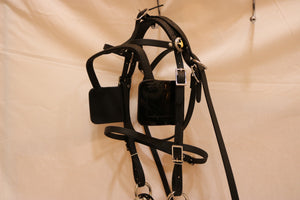 Biothane Driving Bridle with Square Blinders
Stylish low cost Biothane Driving Bridle is made of vinyl coated nylon material that looks like leather.   Easy maintenance , strong and  durable.  This Biothane driving bridle comes with square blinders, side check and bit..
Wonderful for everyday driving.  Easy to clean.  Just soap and water.  Wipe off after using.   Comes standard  with nickel hardware. 

Color:  Black only
Sizes:      Mini "A",   Mini "B"