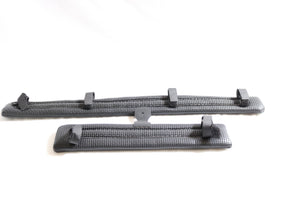 HARNESS PAD SET-WAFFLE VINYL-NEOPRENE

Made of Perforated Neoprene Waffle Vinyl-filled with firm closed cell foam which will not absorb sweat.  This set includes both Gig Saddle and Breast Pad. 
Made in the USA

Provides extra protection over the horses withers and chest area.  Eliminates rubbing / preventing sores.
Gig Saddle pad measures  1" x 3" x 15"
Breast Pad measures  1" x 2-1/2" x 26"
Machine Washable -wash on delicate cycle and hang to dry
Colors:   Black