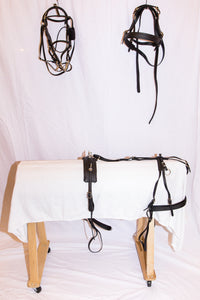 Single Biothane (Bio) Harness
Stylish low cost harness made of vinyl coated nylon material that looks like leather.  It is designed to enhance the pulling power of your miniature horse. Easy maintenance , strong and  durable.  This harness includes bridle with blinders, bit, breast collar, breeching,  single ply pulling traces and reins.
Wonderful for everyday driving.  Easy to clean.  Just soap and water.  Wipe off after using.   Comes standard  with nickel hardware.  Can be Special order in Brass or Stainless Steel hardware.

Color:  Black only
Sizes:      Mini "A",   Mini "B" and Pony
SIZE A BIO HARNESS                                       
A    27 INCHES TO 33 INCHES                        

B     12-1/2 INCHES                                           
C     16 INCHES TO 22 INCHES                         
D     40 INCHES TO 50 INCHES                        
E      16 INCHES TO 24 INCHES                       
F       22 INCHES TO 28 INCHES                        
G       25 INCHES         
 SIZE B BIO HARNESS
A    29 INCHES TO 35 INCHES
B    13 INCHES
C    18 INCHES TO 24 INCHES
D    43 INCHES TO 55 INCHES
E    18 INCHES TO 26 INCHES
F    26 INCHES TO 32 INCHES
G   26 INCHES
SIZE PONY BIO HARNESS
A    34 INCHES TO 38 INCHES
B     15 INCHES
C     23 INCHES TO 27 INCHES                              
D     45 INCHES TO 60 INCHES
E      22 INCHES TO 32 INCHES
F      34 INCHES TO 42 INCHES
G     31 INCHES