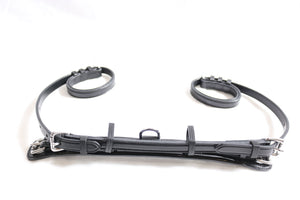 Leather Miniature Tillsbury Tug Conversion (French Tugs)
The French Tugs Girth replaced the traditional Wrap Straps Girth.
French Tugs Makes it faster to unhook shaft from either side of the cart allowing cart to come off of the horse faster and easier.
We recommend using shaft stops 
Sizes:  Mini A and Mini B
Choice of Brass Hardware or Chrome Hardware.